Back to overview
Pitlochry pupils get a hands-on lesson in hydro history01 Mar 2017
A group of S3 pupils from Pitlochry High School were the first schoolchildren to tour SSE's new visitor centre at Pitlochry Dam last week (Thursday 19 March) and they all got a hands-on feel of Scotland's hydro history.
The group of 29 pupils learnt about how Pitlochry Dam was built and is operated as well as how the salmon ladder helps the fish navigate their way through the dam.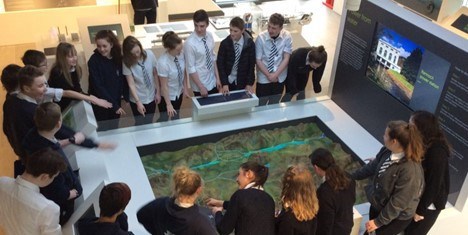 SSE's £4m visitor centre was opened last month and has already welcomed over 10,000 visitors through its doors, drawn to its stunning views and popular café.
The free-to-visit centre pays tribute to the engineers whose bravery helped build such Highland hydro schemes as Pitlochry in the 1950s, including the 'Tunnel Tigers.'
Gillian O'Reilly, SSE's Head of Heritage, said: "We were delighted to host the pupils from Pitlochry High School to our visitor centre. Many of the exhibitions here have significant educational value and by educating children about the engineering feats of the past we hope to inspire the engineers of the future. We all take electricity for granted so the experience should also encourage everyone to think about how and why we make energy."
Mary Sherriffs, Senior Learning Resource Centre Assistant at Pitlochry High School, said: "Ever since the opening of the centre appeared on the local news there has been an interest from the pupils to visit – especially those studying science and art subjects and our Primary 2 class have even been specifically looking at dams and water as a topic.
"The dam is on our doorstep so it's a great leaning resource for the pupils to come and see for themselves how electricity is made. Some of our former P6 pupils had visited the site before it was built so it was fantastic to see the finished article. The visit was a huge success."